Are you stuck on a white screen, need to switch the Wi-Fi network, or can't get to the Apple TV menu? Or, If you received an email from Playlister suggesting that it is important to reset your Apple TV(s), follow the procedure below.
What you'll need:
Your Apple TV(s)

The Apple TV's remote
Make sure:
Your Apple TV(s) is connected to Wi-Fi or Ethernet because if the Apple TV isn't connected to the internet, the Playlister app won't automatically reinstall during the reset.

Don't worry; if you have to switch the Wi-Fi, follow the steps below and make sure to enter the new Wi-Fi info.
Here are the steps to reset your Apple TV(s):
Hold down the Menu + Home (the TV button) buttons simultaneously until the light on the Apple TV starts flashing, and then release both buttons. This will cause the Apple TV to restart.
Wait until the Apple TV boots, and you see the white screen again. Then repeat steps 1 and 2 (listed above) four more times.
On the 5th boot, the Apple TV will be in Recovery Mode.
Select the option that says "Reset All Settings."
The Apple TV will restart and reconfigure itself.
During the reconfiguration, enter the Wi-Fi info (optional)
Playlister will automatically reinstall.
You should be all set now! But about 5% of our customers encounter a black screen after the reset. What does that mean? If you see a black screen after the reset, that means the Playlister app did NOT reinstall after the reset. Playlister did not install because the internet you connected the Apple TV to is not working.
Reset the Apple TV again and try a different Wi-Fi network or plug the Apple TV into ethernet. If you keep encountering a black screen or the Playlister app is missing, that means your Wi-Fi is down, and our servers can't reach your Apple TV. At this point, email support@playlister.app with the asset tag number for the Pro Apple TV (circled in red). Our support team will attempt to force the Apple TV to download Playlister once you connect it to the internet.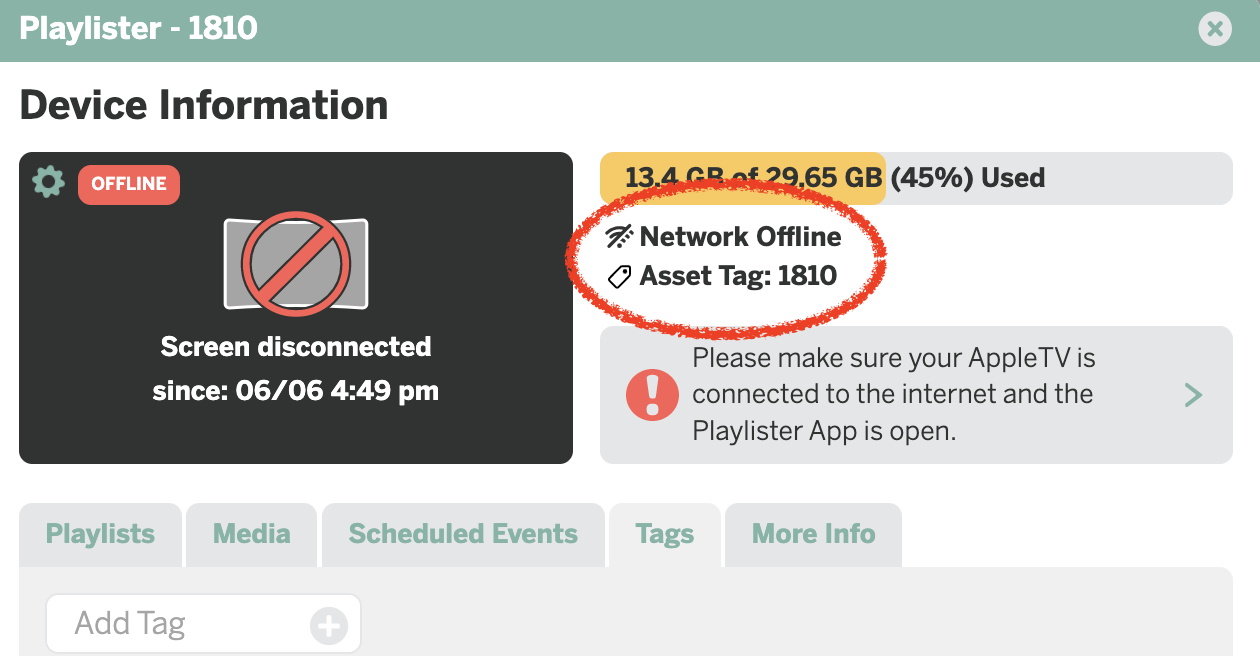 Important note: If the Apple TV remote is not working correctly during this process, check out how to fix the remote here: https://support.playlister.app/hc/en-us/articles/1500002494701